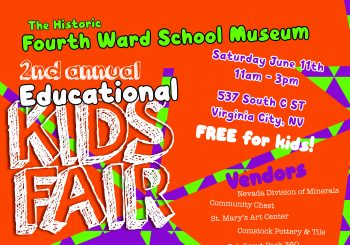 Combining education with fun-filled activities is the focus of the Historic Fourth Ward School Museum's 2nd Annual Educational Kids Fair on Saturday, June 11th from 11 a.m. to 3 p.m. Admission to the fair is free to all participating students. The museum will remain open to the public during the fair for everyone to enjoy.
The Kids Fair is a fun, educational summertime event featuring exhibitions and activities from local community partners, including the Nevada Mining Association, Nevada Division of Minerals, St. Mary's Art Center, The Comstock Foundation, Community Chest, Cub Scout Pack 360, VC Silver Circuits, Comstock Pottery and Tile, and more! The exhibits throughout the museum highlight activities of what the museum offers by educating children about the Comstock, Mining and Safety, Minerals and Geology, along with fun activities that include pottery, calligraphy, printmaking, and knot tying! There will be plenty to learn about and many things to create! All participating students will be given a passport to visit the various organizations and will be given a sticker for each completed activity.
Present your completed Kids Fair Passport at Comstock Connection's "Saturday in the Park" event at Miner's Park between 11 a.m. and 2 p.m. to receive 10% off a barbecue lunch!
This event is sponsored in part by Monarch Direct and Haunted Comstock. The Historic Fourth Ward School Museum is very appreciative of all the sponsors and vendors who are taking time to help with the fair, their support made it possible to have this event.
For more information, call the Historic Fourth Ward School Museum at 775-847-0975 or email events@fourthwardschool.org. Facebook: www.facebook.com/fourthward
The Historic Fourth Ward School Foundation is a tax-exempt 501(c)(3) nonprofit corporation formed and operating in the State of Nevada and registered with Nevada Secretary of state (Federal Tax ID# 88-0463462). Our Purpose and mission is to connect people to the relevance and importance of the Comstock Story through its authentic preservation, interpretive Exhibits and programs, and archival resources. Your donation may be tax deductible pursuant to the provisions of section 170 © of the Internal Revenue Code of 1986, 26 U.S.C. § 170(c).