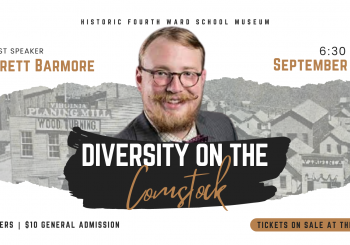 Join us on the evening of Tuesday, September 20th at 6:30 PM for our latest lecture in the Historic Fourth Ward School Museum's Programs for Preservation series, "Diversity on the Comstock," with guest lecturer Garrett Barmore.
At its height, Virginia City was the most populated city between San Fransisco and St. Louis. Much has been said and published about the silver barons and bankers, but who actually lived in Virginia City? In this presentation, Garrett Barmore (Curator of the Keck Museum at the University of Nevada, Reno) will discuss the diverse residents of Virginia City and what day-to-day life would have been for an average citizen.
Tickets are $5 for members, $10 general admission and will be available for purchase at the door!