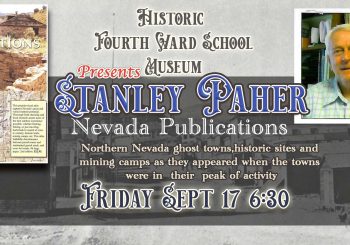 Friday, September 17
6:30 PM
Admission
members: $5
general: $10./ $15 with glass of wine
We are pleased to host Western legend Stanley Paher, an author and publisher of 16 Nevada books. His first book, Nevada Ghost Towns & Mining Camps published in 1970 has many unpublished pictures of Virginia City and Gold Hill. In all it contains 710 pictures in all of mining camps in their heyday.
The Sept 17 presentation will cover northern Nevada ghost towns, historic sites and mining camps as they appeared when the towns were in their peak of activity. Paher will close with some color images of some of the towns, and a question and answer session will follow. Let us welcome Stanley Paher!