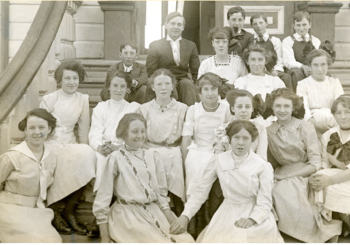 Saturday, October 14, 2017, 5:00 – 8:00 p.m.
Save the date for our first annual Steppin' Back In Time fundraising event. Join us for an exciting evening of early 20th century fun as we step back to 1910! Come dressed in historic costume, enjoy hors d'oeuvres and beverages and celebrate life as it was in 1910 on the Comstock.  Your participation will support the Historic Fourth Ward School, built in 1876. Our four storied, Victorian Era, Second Empire, wood school building is the only one in existence in the United States, the "Last-One-Standing."
---
Desk Art Auction

Seven regional artists have donated their time and talent to help support The Historic Fourth Ward School Museum & Archives.
Each artist selected pieces of 1910 school desks for their artwork. These one-of-a-kind creations will be the highlight of our Steppin' Back in Time event.
Each piece will have a minimum bid and can be viewed prior to the event by appointment.
Please contact us directly at (775) 847-0975 ext. 1.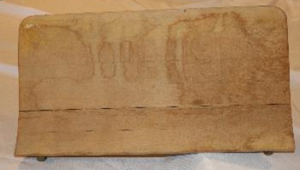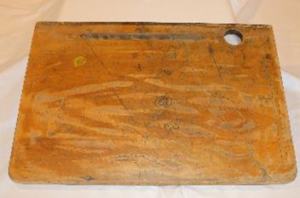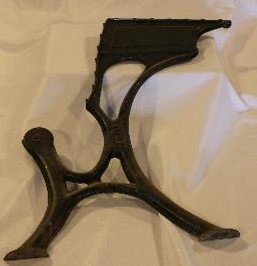 ---
Featured Artists Include: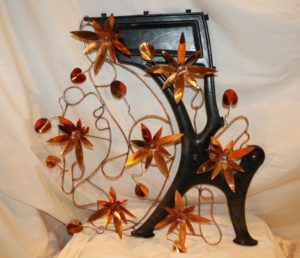 Never Again
by Don Kennedy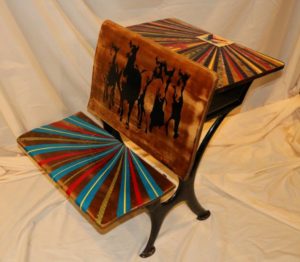 School Memories of Virginia City and the Bully That Sat Behind Me
by Pete Paulos
Sparks, NV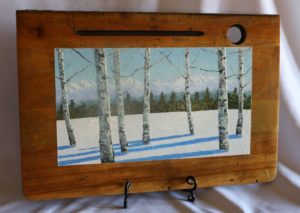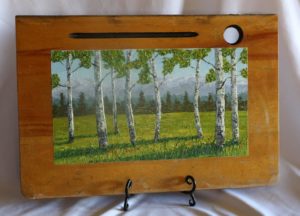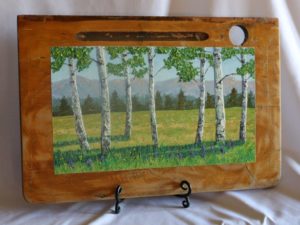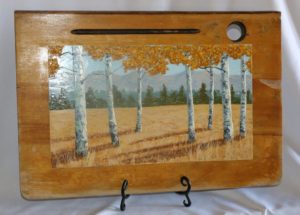 Aspens Winter, Spring, Summer, Fall
by Monika Piper Johnson
Incline Village, NV
http://monikapiperjohnson.com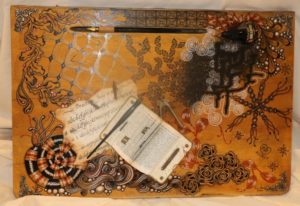 Teenager's Day Dream
by Kim VanZyll
Carson City, NV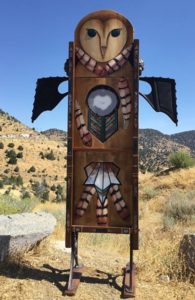 Storey… Dreams of Future Past
by Corrie Zam-Northan
Virginia City, NV
www.NevadaStainedGlass.com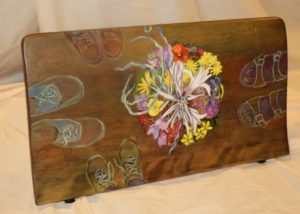 Planet Earth 2, The Teacher
by Karen Kreyeski
Silver City, NV
www.karenkreyeski.com
by Mark Salinas'
www.arrowsup.com
www.7trainmurals.org
---
In addition to the seven desk art pieces, we will have an array of fabulous raffle and silent auction items. The following is a partial list of the items:
1/2 of Custom Beef wrapped in quality meat products of your choice: donated by the Quilici Ranch of Dayton and Wolf Pack Meats.
Custom Made Hat by Pascal Baboulin of Pioneer Emporium, Virginia City: donated by the maker.
4 Infield Reserved Tickets to a Reno Aces Game: donated by the Reno Aces.
Peppermill Resort Spa Casino Luxury Package including a one-night stay in one of their luxurious Peppermill tower rooms and a $100 gift card: donated by the Peppermill Reno
Oil painting, 9" x 9", "Incline Aspens" by Monika Piper Johnson: donated by the artist.
United States of America flag flown over the Nevada State Capitol with Certificate of Authenticity: donated by Governor Brian Sandoval's Office.
2 each Museum Lovers Package: each package includes 2 admission tickets to the following museums: Nevada State Museum, Carson City; Nevada State Railroad Museum, Carson City; National Automobile Museum, Reno; Nevada Historical Society, Reno;  Fleischmann Planetarium, Reno; Historic Fourth Ward School Museum, Virginia City: donated by respective museums.
Copper Art Piece by artist Don Kennedy: donated by the artist.
1880s Historic Reproduction Dress made by Paulette Grune, size 8. Includes 2 bodices, 2 skirts and small matching purse: donated by Margo Memmott.
Print on Canvas, 19" x 40", Virginia & Truckee Railroad Locomotive "Reno", #46/100, by T. Garrels: donated by Sharon Snell.
Historic Reading, Lighting & Hydration Basket: Collectors box including Virginia City Cemetery Gin, Bucket of Blood Saloon Bloody Mary Mix, 4 history books, replica miner's candle holder and candle: donated by Ron & Judy Gallagher.
Experience Virginia City Basket: A bottle of wine, two wine glasses, 2 Mucker Madness Passes (V&T Train, Trolley Tour, Ponderosa Mine Tour, Fourth Ward School, Way It Was, Mackay Mansion and Outlaws Show), 10 tasting tickets for Oyster Fry and Chili, 2 tickets to Taste of the Comstock and Camel Races: donated by the Virginia City Tourism Commission.
---
Tickets are $50 each
Tickets can be purchased online
or by calling (775) 847-0975 ext. 1
Last day to purchase tickets is Friday, October 6, 2017.
Sponsorship Opportunities
Sponsorship of $1,000 includes 4 preferred seating seats, pre-event cocktail party, and recognition on social media, website and print marketing.