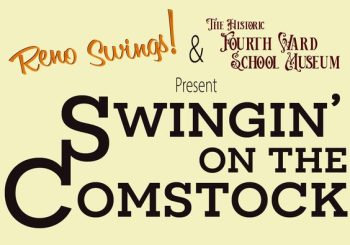 Swing Dance At The Historic Fourth Ward School Museum In Virginia City, NV On Friday, November 17, 2023!
Reno Swings! Returns To The Beautiful 1870s Landmark For A Night Of Swing Dancing And Live Classic Swing & Jazz Tunes.
Reno Swings! will give a beginner-friendly dance lesson and then open the dance floor to social swing dancing with live vintage music.
No dance partner or previous experience required!
At the Historic Fourth Ward School Museum in Virginia City, NV on 1870s-era wooden dancefloor!
Swing Dance lesson by Reno Swings! instructors from 7-8 p.m.
Doors open at 6:30 p.m.
Live Band plays from 8 p.m. to 10 p.m.  (Band TBA)
$15 General Admission / $10 for Fourth Ward School Museum Members
Tickets on sale soon! Please check back.