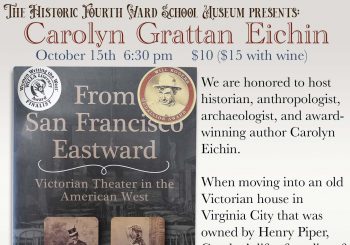 Event Details:
Friday, Oct 15
6:30 PM
Member admission: $5 ($10 with wine) (become a member) 
General admission: $10 ($15 with wine)
Child (10 and under): $5
Event Description:
Carolyn Grattan Eichin has lived her entire life in the American West. Residing in Nevada for more than 34 years, she attained both a BA and MA in history from the University of Nevada, Las Vegas, as well as completing the course work for a PhD in the history of the American West. For seventeen years, she maintained a relationship with the College of Southern Nevada teaching American history, Nevada history, and anthropology as a member of the adjunct faculty. Other work experience includes a stint as an archaeologist and a bed and breakfast owner with her husband in Virginia City, Nevada. She has published in the following scholarly journals: Nevada Historical Society Quarterly, Utah Historical Quarterly, and the Mark Twain Annual. "From San Francisco Eastward: Victorian Theater in the American West" is the culmination of many years of research and her first book.
The book has recently placed as a finalist in two book competitions. The book is a finalist for the Willa Literary Award from Women Writing the West. The Will Rogers MedallionAward organization has placed the book among a group of five finalists in the Western non-fiction category. The winner and final placement of the book will be decided in late October, 2021 at their annual conference. The Will Rogers Medallion honors achievement in Western books and films.
In 2004 Carolyn and her husband Chris purchased a derelict house in Virginia City located on B Street; it was discovered that the first homeowner was Henry Piper, the brother of John Piper of Piper's Opera House fame. Investigating the history of the home led to research that has been incorporated into the book. Piper's Opera House was considered one of the premier theaters in the country during the nineteenth century when Virginia City was Nevada's largest town. The book uses many examples from Virginia City and explores the theater's relationship to the region.
The lecture will touch on the main themes and personalities that comprise the book. A Q&A period will follow. Books will be available for sale at a reduced rate over the Amazon internet price.