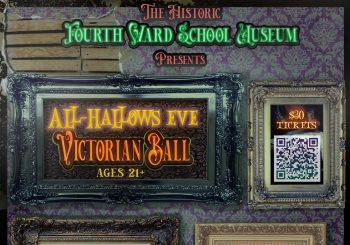 Halloween Ball 2021 
Virginia City, NV
Historic Fourth Ward School Museum
EVENT SCHEDULE:
7:00 — Doors Open (Tickets available at door, though 2/3 are sold in advance already)
7:30 — 8:00 — 8:30– Flashlight Tour Scavenger Hunts.
Teams of 2 or 3 people, one light permitted per team. For every answer you can find, you'll get a poker card. Best hand wins a round of drink tokens.
9:00 — COSTUME CONTEST
Categories:
Best Victorian
Most Creative
Spookiest
FORTUNE TELLING/TAROT READING:
Bring your queries to the Major and Minor Arcana.


We'll be hosting at the Historic Fourth Ward School Museum this year an All Hallow's Eve Ball! There aren't many Victorian buildings in the American West ~ and as the last-standing Second Empire school building in the entire US, we are very proud of this unique building! It's even the inspiration for Disneyland Europe's "Phantom Manor" that stands in their wild-west themed Frontierland.
In the Disneyland story, gold was struck on Big Thunder Mountain, making the owner Henry Ravenswood a wealthy man. And while Frontierland all has the gritty wild-west look, Ravenswood Manor was based off of the story and aesthetics of the wealth of Virginia City in its boom. And Ravenswood's manor, now the "Phantom Manor" after his ruin, is styled off of our very own Fourth Ward School building. Whether or not there are any phantoms here, you'll have to come see for yourself.
So why not come dance with the spirits in a 134 year old treasure and get spooky with flashlight tours of the museum, music and dancing, fortune telling, and a costume contest.
Entry fee also includes a free first beverage.