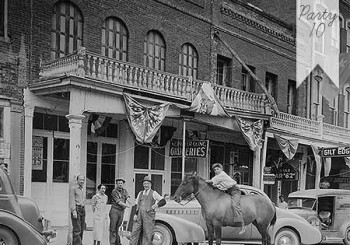 SOLD OUT! Please sign up for another Party to support the Historic Fourth Ward School Museum.
When: Sunday, October 2, 2016 – 3:30 p.m. to 8:00 p.m.
Where: Hidden Valley, Reno
With the help of an 1878 menu from the historic International Hotel in Virginia City, the Gallaghers will recreate the dining experience of the Comstock during its boom days. You will begin the experience with whisky and warm beer (or cocktails) at their Flume Bar. At the bar, constructed from lumber salvaged from the old flumes that supplied water to the Comstock, Ron will share the history of the water system. The bar top was originally in the Virginia Hotel, which served the Big Four and the Bank crowd. A Reno gourmet chef will meet the challenge of the historic menu to complete your evening of a taste of history.
Host and Sponsor: Ron and Judy Gallagher
Price per Person: Fourth Ward School Members- $100.00, Non-Members- $120.00
Number of Guests: 10
Reservations: fourthwardschool.org or 775.847.0975
Photo: Comstock Historic District Commission