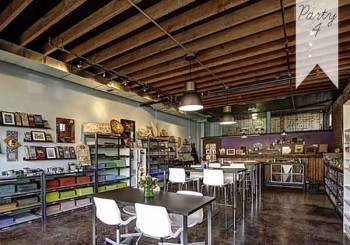 When: Sunday, August 7, 2016 – 1:00 p.m. to 4:30 p.m.
Where: The Copper Cat, Downtown Reno
Artist Kate Packham will teach the basics of design, assembly, materials and grouting to create your own 10 x 10 framed mosaic mirror or 6 x 12 mosaic plaque. For this 3 to 4 hour class, all materials are included and feature tesserae from Katie's personal collection – glass tile, metal tiles, rocks, glass gems, shells, marble, stone, ceramic tile, stained glass, handmade tiles and many other finds from around the country and world. Feel free to bring in pieces to add to your mosaic. Enjoy light refreshments and hors d'oeuvres.
Host: The Copper Cat
Sponsor: AT&T
Price per Person: Fourth Ward School Members- $80.00, Non-Members- $100.00
Number of Guests: 8
Reservations: fourthwardschool.org or 775.847.0975
Photo: Copper Cat