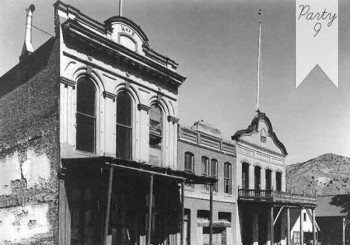 SOLD OUT! Please sign up for another party to support the Historic Fourth Ward School Museum.
When: Friday, September 30, 2016 – 5:00 p.m. to 7:00 p.m.
Where: Knights of Pythias Building, Virginia City
Owners Mike Benson and Jeff Parady will give an update on the progress of the restoration of the Knights of Pythias building. Enjoy light refreshments and hors d'oeuvres at the historic bar while you learn about the history of mercury mining in Napa, California, and the connection to the Comstock mills.
Host: Mike Benson and Jeff Parady
Sponsor: Historic Fourth Ward School Museum
Price per Person: Fourth Ward School Members- $50.00, Non-Members- $60.00
Number of Guests: 12
Reservations: fourthwardschool.org or 775.847.0975
Photo: wikipedia.org