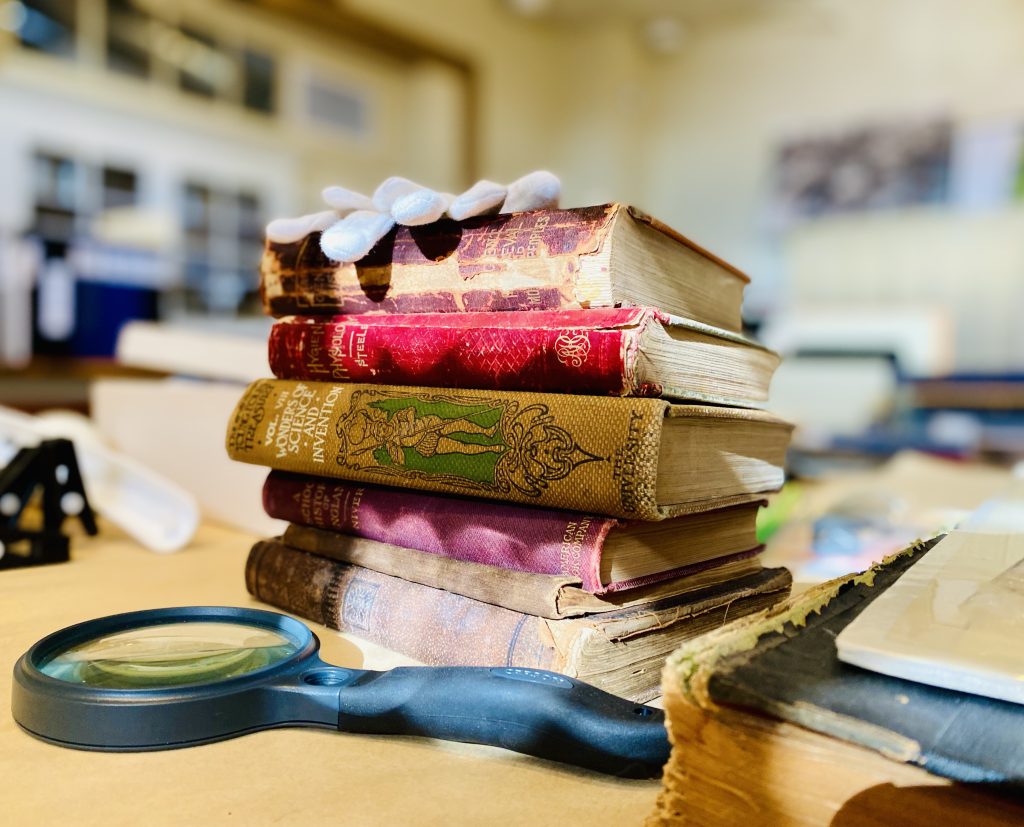 The Historic Fourth Ward School Archives and Research Center holds collections and records that document Comstock history from 1875 to current day. The collection includes:
Genealogy information: historic photographs of students who attended the Fourth Ward School; biographical information on students (1877-1899) and other Virginia City related individuals.
Oral histories: local residents with relatives dating to the original discovery and mining operations of the 1860s and residents born and/or raised in Virginia City (1900-present). (The oral histories were collected with funding in part by Nevada Humanities and the National Endowment for the Humanities.)
Photographs: student photographs 1880s-1980s; images of Virginia City, Gold Hill, Sutro, Silver City 1870s-1950s; WW II military photos; railroad and mining photos; individuals, native Americans, Chinese, and more.
Maps: Mining and town site related 1860s-1960s; classroom maps, and miscellaneous local maps.
Historic documents and records: school ledgers 1887-1938; graduation announcements 1878-2000; diplomas, report cards, invitations, and more.
Books: school texts used at the Fourth Ward School, histories, biographies, and more.
Collections: Sutro papers, Virginia Gold Hill Water Co., family collections of photographs, documents, family Bibles, various editions of historic Nevada newspapers 1860s-2008; high school yearbooks, alumni scrapbooks, Comstock Research vertical file collection including research binders on many topics related to the Comstock; postcards; Civil War era letter and tintypes.
Artifacts: Three-dimensional objects including materials related to the Virginia Gold Hill Water Co., textiles, mining equipment, ice cutting equipment, tools, banners, plaques, large furniture items.
Archives Access
Access to the archives is by appointment only. Please contact the Director for assistance in obtaining information and research opportunities. All materials must remain at the Fourth Ward School. Copies of most items are available.
Requesting Information
The Historic Fourth Ward School Museum welcomes inquiries regarding Comstock history and former students, teachers or principals. However, as a not-for-profit, small museum, the archives and research center charges a fee for inquiries that require response by phone, e-mail, mail or fax. Requests are answered in the order received and require a 2 to 6 weeks response period. Remember to include your name, address, phone number, fax number and/or email with each request.
Research Fees
Research requests and assistance is free for the first half-hour, then $50.00 per hour thereafter.
Inquiries requiring only a nominal assistance may be free of charge depending on the time required of the staff and volunteer research associates to respond to the request.
Payment is required in advance. Requests will be evaluated for the extent of research required, ability to fulfill the request, expected number of hours to gather materials, and estimated expense commensurate with the amount of work required. We make no guarantees that we will find the information being requested, especially for elementary school students prior to 1910. Fees are used to fund the operation of the archives including staff, supplies, and future acquisitions of research materials.
Member Discount
Members at the $100 level and above receive complimentary research per hour or portion thereof respective to the membership level.
Photocopying Fees
Fee: $1 per page or image.
Postage and handling fee of $5 is required for all orders mailed in the US. Additional charges will be added for bulky orders, express or international delivery.
Photocopying damages original documents physically and chemically. Therefore, photocopying is at the discretion of the archivist and performed by staff only. Some materials may not be copied due to their condition, age, size, binding, or legal restrictions. Self-copying, scanning, or photographing of materials is not allowed. Entire works, collections, oral history transcripts, etc. will not be photocopied.
Photograph Duplication Fees
The fee for these is $15.00 per image.
The Museum does have the bulk of its photographs digitized. These digital records are used as finding aids and are not of a high resolution but for many purposes, they are just fine. These digital images will be printed on photo paper, with a watermark credit line to identify the image as belonging to the Museum.
Publication Fee
A fee of $50 shall be charged for use of any materials used in a commercial publication, journal or mass audience book, advertisement, newspaper, magazine, and other commercial ephemera.
A fee of $50 shall be charged for use of any materials used in a commercial display, exhibit or website format.
A fee of $125 shall be charged for use of any materials used in a video, film, production or broadcast format.
All collections and materials are copyrighted for the Museum's use. Any other public use for profit must be approved by the Museum's Director. Use of any image requires that credit be given to the Historic Fourth Ward School Museum and Archives unless otherwise specified.
Donation of Materials
The Museum encourages donations. Items must be relevant to the Fourth Ward School, education on the Comstock, and the history of the Comstock. The determination of items to be added to the collections is the responsibility of the Board of Directors.
Fourth Ward School Museum & Archival Research Center
Request Access to
Our Archives